TBH SERIES TRAILER BULKHEADS
PRODUCT OVERVIEW
ADDITIONAL FEATURES
PRODUCT OVERVIEW
Bring the traditional trailer bulkhead into the modern age, with state-of-the-art construction that makes it lighter and stronger than older-style bulkheads.
EASIER ON EMPLOYEES

Low-effort maneuvering improves safety of drivers and loaders.

MORE DURABLE

Unique features reduce damage that leads to costly repairs and replacement.

TIGHT, EFFICIENT SEALING

Solid design ensures temperature consistency and ultimate product integrity.
ADDITIONAL FEATURES
THE NEW STANDARD IN TRAILER BULKHEAD PERFORMANCE
LIGHT, FLEXIBLE PANEL CONSTRUCTION

2.5" (64mm) ARCEL foam panels are lighter than thicker foam panels, making them easier to place, move and remove. Plus, less rigid construction makes them more resistant to puncture and crushing when struck by forks and loads.

ERGONOMIC HANDLE PLACEMENT

Engineered leverage positioning makes it easier to grab, hold, lift and maneuver panels with less strain on workers.

UNIVERSAL CENTER HINGE

Standard bi-fold hinge design allows easy, efficient access to cargo areas.

ANTI-TWIST STRAP GUIDES

Exclusive poly strap guides prevent straps from twisting, for easier latching and tightening, and more reliable sealing.

EZ REPAIR, PANEL SAVER HANDLES

Button-lock fasteners allow handles to break away when excessive force is applied, avoiding pull-through damage to panels. Plus, poly fasteners won't rust or corrode, for an overall cleaner bulkhead.

RUGGED BOTTOM SKID GUARD

Tough 12" (305mm) wrap-around UHMW scuff plate protects bottom panels from punctures and wear, for lower maintenance and repair costs.
TBH100 Trailer Bulkhead
A FRESH LOOK AT AN INDUSTRY CLASSIC
A durable trailer bulkhead, easy to move, and loaded with unique features. A favorite of loaders and drivers in the cold chain transportation industry.
Request More Info
Download Product Sheet
TBHZ
Z-SHAPED CONFIGURATION
Versatile bulkhead system: For convenient space separation when loads consist of an odd number of pallets between temperature zones.
Request More Info
Download Product Sheet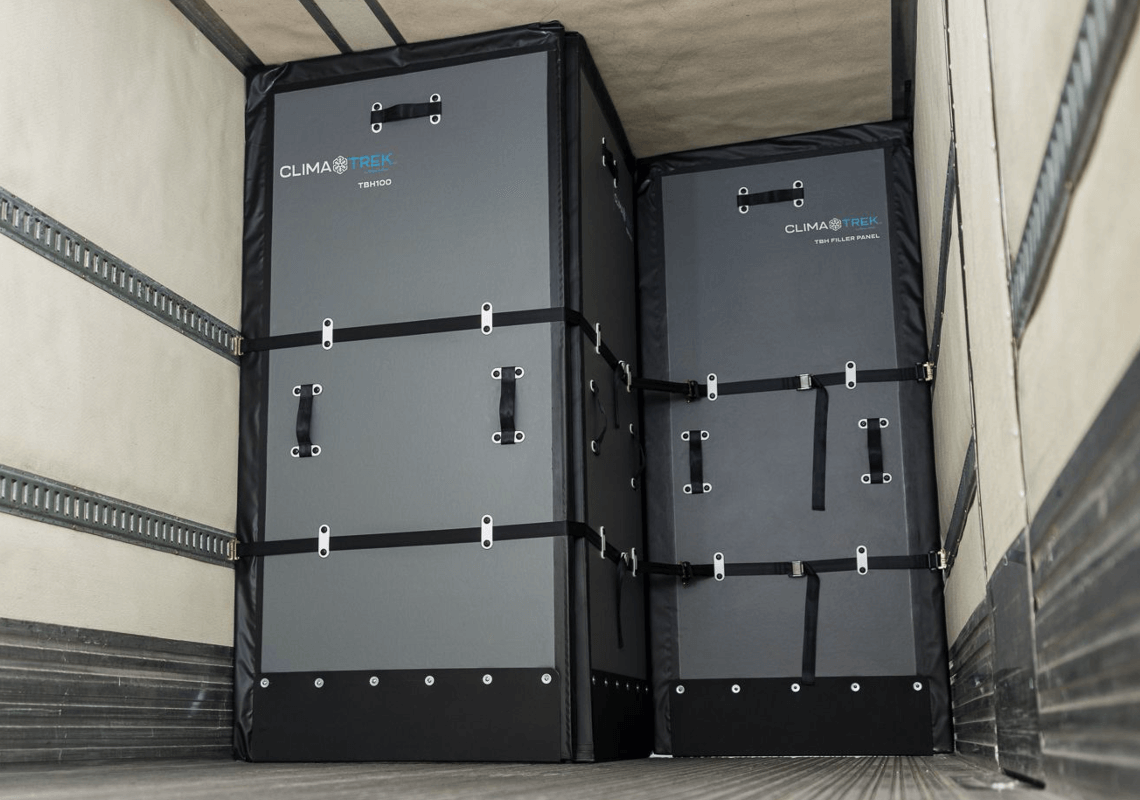 "The ClimaTrek bulkheads are lightweight and easy to move and stay in place. I like the extra grab handle at the top!"
"Our employees like the light weight of the ClimaTrek product. The magnets on the filler panel make for easy storage with the e-tracks in our trucks."
Resources
Need more info?
Fill out the form below and one of our reps will reach out to you.